Prevent a slow and hidden water leak from causing severe and costly structural damage. Knowing how to locate leaks in your home will help you keep it dry and safe.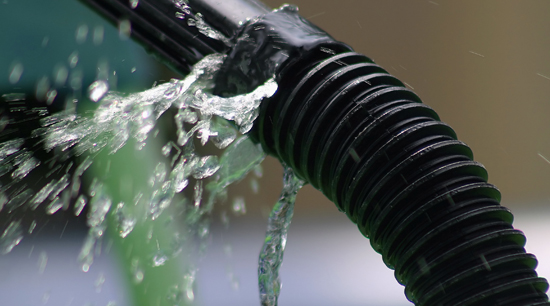 alpharettawaterdamageremoval.com assembled the following information about detecting and locating hidden water leaks.
How Do You Know If You Have a Water Leak?
Before you start running through an extensive process of elimination to find a plumbing leak or water entry point in your home, confirm that a leak exists. Consider the following:
Pay Attention To Your Water Bill – Your monthly water bill will remain fairly consistent, so when you get one that seems unusually expensive, the chances are high that you have a leak.
Watch Your Water Meter – Cease all water usage and check your water meter reading. If, after two hours, the meter changes at all, you likely have a leak.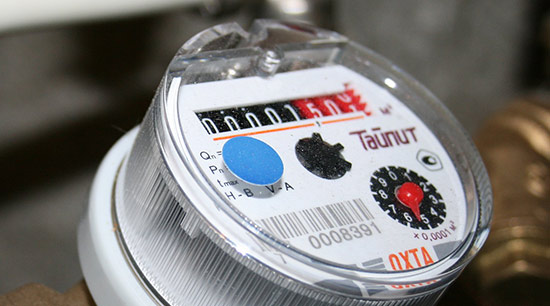 Note: The Environmental Protection Agency (EPA) estimates that the average household's leaks can account for nearly 10,000 gallons each of water wasted annually. The EPA also estimates that ten percent of homes have leaks wasting 90 gallons or more daily.
How To Find Water Leaks at Home
Water leaks can happen anytime in any part of a home's plumbing system. Unless you know what to look for, some of these leaks can remain hidden for days, weeks, or longer. Look for the following signs when attempting to locate a water leak:
When pipes burst, they typically make hissing sounds; you may also hear dripping or flowing sounds. In some cases, thick insulation can muffle these sounds.
Watch for discoloration or a "wet" spot appearing on the wall or ceiling.
Bubbling/bulging paint or peeling wallpaper signal a water leak.
Warping or bending sheetrock on walls and bulging/sagging areas of sheetrock from the ceiling.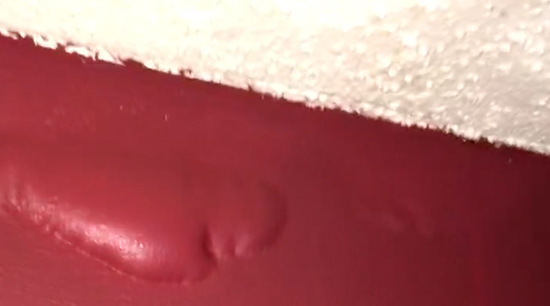 Look at the floor and baseboards. The following indicate a water leak:
Stained, warped, or discolored baseboards.
Disfigured, stained, wet, or soaked flooring.
Watermarks/stains on tile, vinyl, stone, or wood flooring (When water pours onto a surface, it will usually leave sediment rings as it evaporates).
Pooling water (this can be deceptive since water will travel to the lowest point possible, the leak may be occurring far from the pooling water).
Using a flashlight, check the flooring where water-fed appliances are located.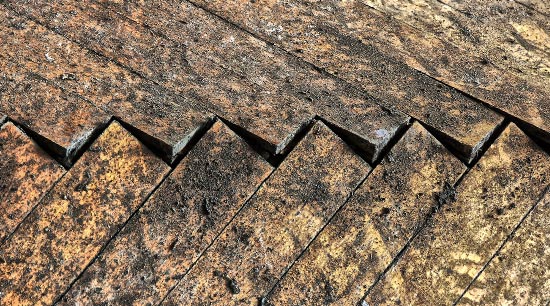 Tip: One sign of leaking water that may precede all others is a damp, musty odor that lingers and worsens as time passes.
These are some random signs of leaking water that should be investigated when they appear:
Patches of greener grass or taller growth in your lawn or garden.
Constant tripping of a breaker(s) in a specific zone of the house.
Recurring mold or mildew growth (even after treatment).
Wet or water-stained rafters or support beams where water lines may run.
Staining or calcification marks on fixtures and faucets.
Note: Water damage happens fast. Such damage is exacerbated and accelerated when the leak originates from a hot water line or occurs during the summer months.
How Do You Find a Water Leak in Your House?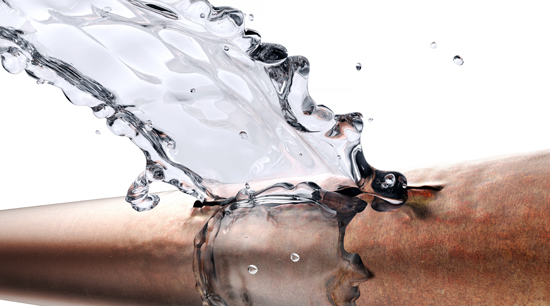 The search for some leaks may become exhausting as they can remain well-hidden for some time. You may find that dividing your home into sections will be an efficient way of tracking down a leak. Consider the following:
Bathroom Leaks
Your bathroom(s) are in constant use and have several fixtures that can give in to continuous use or simply malfunction:
1. Toilet leaks will typically occur when a flapper (valve seal) gets old or wears out. You can quickly identify toilet leaks by placing a couple drops of food coloring in the tank. If any color shows up in the bowl after 5 to 10 minutes, you have found a leak. Replace the valve seal and rerun the test to confirm that the leak has been stopped.
2. Faucet Leaks occur when old or worn washers and gaskets can no longer form the seal needed to prevent water from escaping. These leaks appear as calcification around the faucet and/or handles or as a slow drip or stream coming from the faucet. Replace the washers and gaskets before completely replacing the unit.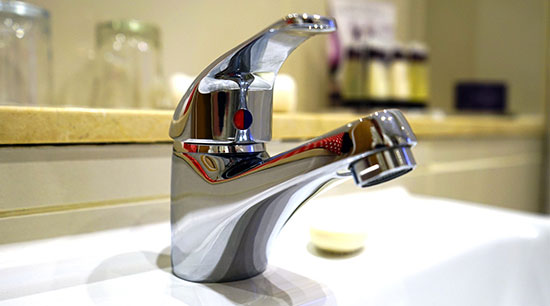 3. Bath Tub Leaks happen when the tub develops a fissure or cracks, allowing water to escape. Fill the tub up to the overflow, make sure the drain is firmly plugged/sealed, and wait one hour to see if the water level drops or water escapes to the floor.
4. Showerhead Leaks can occur at the showerhead connection to the pipe stem or in the valve mechanism when the shower isn't in use. For a leaking showerhead connection, remove the showerhead, apply Teflon tape to the threads on the pipe stem, and firmly replace the showerhead. (This is also an excellent time to replace the washer inside the showerhead if needed). If the leak is originating from the valve, contact your plumber to evaluate and fix it.
Tip: Once you've located a leak, turn off the water supply to that fixture before starting your repair.
Utility Room Leaks
A Utility room may be built into a home with a specific purpose in mind. Here are some of the leaks you may encounter:
1. Water Heater Leaks These leaks happen for multiple reasons. One potential source is the pressure release valve which should be replaced immediately upon discovering it has malfunctioned. Another potential problem may arise when the internal container (holding the water) cracks or ruptures. Once the internal container (usually glass) has ruptured, you will likely need a new water heater.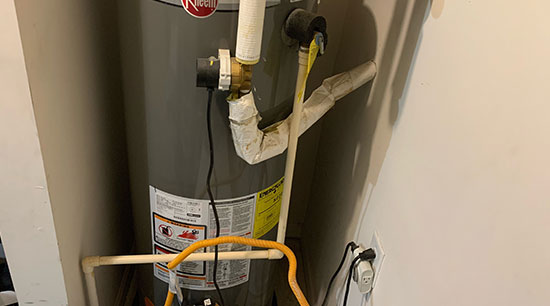 2. Washing Machine Leaks These leaks are common and can cause a significant amount of flooding. If you detect water coming from beneath your washing machine, it is likely a water pump failure or a rupture of the hoses connected to the pump. Water originating from the back of the washing machine indicates a rupture or failure of the hot or cold water supply hoses. Avoid these leaks by having your washing machine serviced annually or after long periods of inactivity.
3. Air Conditioning Unit condensation can accumulate, pool, and overflow the condensate pan or outpace the condensate (drain) line. This is particularly important during times of heavy heating or cooling. Regular maintenance and cleaning can help you avoid pooling or overflowing condensation.
Kitchen Leaks
Between its sink(s), drains, and appliances, your kitchen relies heavily on water. When something goes wrong, you'll generally spot the problem due to pooling water on the kitchen floor. Here are some things that can go wrong in the kitchen:
1. Refrigerator Leak This leak is similar to that of an air conditioner. Without proper ventilation or excess condensation, the drip pan below the unit can fill up and overflow. Another potential leak is with water-fed refrigerators that end up with a ruptured or kinked water supply line.
2. Disposal Leak When a disposal unit leaks, it will generally lose water from the bottom as a drip or a stream. This leak will leave water damage in the cabinet below your sink and, over time, may develop a putrid or rancid odor.
3. Dishwasher Leak If your dishwasher is leaking, you may see water coming from the door or pooling beneath the unit. This may be attributed to the unit's broken water pump or the multiple hoses and clamps attached to the water delivery and drain hoses.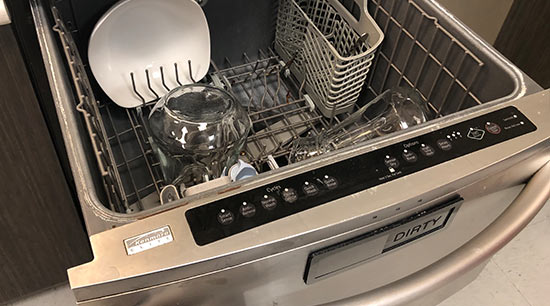 4. Water Supply Line Leak Some kitchens are equipped with automatic coffee or tea brewers, auto-fill water filters, and other conveniences with their own water supply. These supply lines may become brittle and break, slip off of their connection, or the unit they supply may malfunction altogether. These and all water supply lines should be checked periodically for pliability, cracks, dryness, and firm connection.
Front/Back yard Leaks
Most homes with yard space come equipped with spigots and, in some cases, a subterranean irrigation system. A home's water supply line will likely be buried here – it should run from the sidewalk to the home's water meter then connect to its plumbing.
1. Subterranean Irrigation (sprinklers) These systems are typically automated and switch on and off without any oversight. However, when a pipe breaks or cracks or a sprinkler head is damaged, you may have large pools of water in your yard or a stream of water running down the gutter.
2. Leaking Spigot These exposed water sources suffer weather, impacts, and inadvertent shock from hoses being overstretched. A leaking spigot will develop a wet, bald spot directly below it, with healthy vegetation growing around that. The spigot may also develop severe oxidation over time.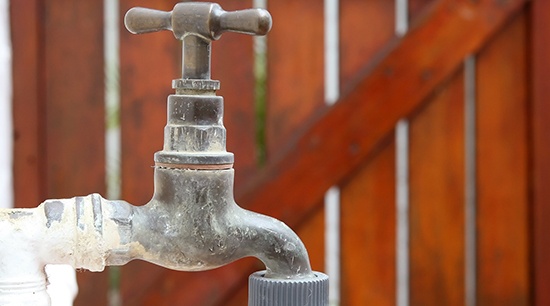 3. Busted Water Main or Sewage Line When one of these lines ruptures, the evidence will be obvious. The soil around the rupture will typically sink, leaving deep ponding in the yard. If your yard is hardscaped, you may notice large sections of it sinking or becoming unleveled. These pipes must be unearthed to pinpoint where the leak occurred and be repaired.
Finding Water Leaks
In this article, you discovered essential information and tips on detecting and pinpointing a water leak in your home.
Knowing how to detect and/or rule out the source of a leak will help you preserve the structural integrity of your home.
Ignoring the signs of a potential water leak may result in costly structural and cosmetic damages to your home.
Sources:
epa.gov/watersense/fix-leak-week
admin.cityofpleasantonca.gov/civicax/filebank/blobdload.aspx?BlobID=33439
uh.edu/~aszabo2/A4leak.pdf
sandiego.gov/public-utilities/customer-service/your-home-plumbing/leaks
Alpharetta Water Damage Restoration
2475 Northwinds Pkwy Ste 200a
Alpharetta
,
GA
30009
(678) 505-0266