After water damage, prevent mold growth from spreading, and causing or worsening respiratory illness. Knowing what to do after water damage can save you and your loved ones from potentially life-threatening health issues.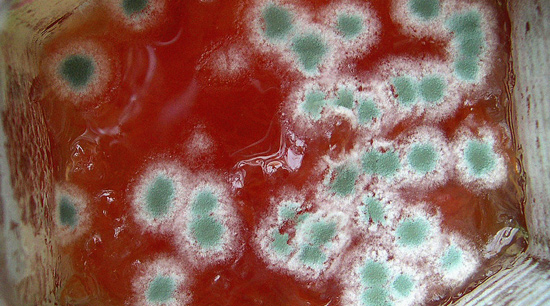 alpharettawaterdamageremoval.com assembled the following steps, information, and tips about preventing mold growth after water damage.
Mold Prevention Steps
Sometimes flooding and water damage cannot be prevented. However, what you do after the event can significantly influence whether your home develops mold problems or not. The following steps will help you prevent mold growth after suffering water damage:
Step 1 – Gather Needed Materials and Equipment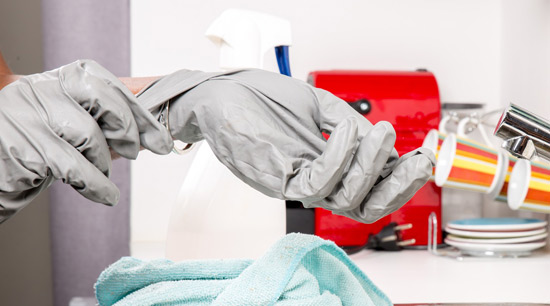 Gather the following materials and equipment to properly eliminate your mold problem:
Protective Eyewear
Gloves (waterproof – rubber or latex)
Mask or Respirator
Several Durable Trash Bags
Bucket
Broom
Mop
Sponges and/or rags
Ammonia-free Detergent, Soap, or Cleaner
Phenolic or pine-oil cleaner
Chlorine Bleach Solution (1-1/4 cup bleach per gallon of water "10%")
Wet-Dry Vacuum (Shop-vac)
Tip: If mold growth covers or is found in an area of roughly 3 ft. by 3 ft. you can likely handle the cleanup job by yourself. When the contaminated area exceeds this size, it is recommended to call a professional with verifiable experience in mold remediation.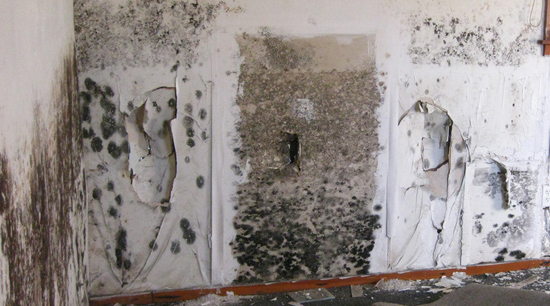 Note: Depending on the extent of the water damage and location within your home, you may need additional equipment or tools to thoroughly remove any potential mold hazards.
Step 2 – Dry Out the Location
The faster you dry out your home after a flood and water damage, the less of a mold problem you are likely to encounter. Follow these recommendations:
Remove, clean, and disinfect any wet rugs, bedding, and furniture.
Discard soaked carpeting that is matted or moldy. For exactly how to do this, read "How to Detect, Remove, and Prevent Carpet Mold after Water Damage"
When outside humidity levels are lower than inside levels, open your windows and doors to the fresh outdoor air.
Remove excess moisture with fans and dehumidifiers. If mold has already started to grow, avoid using fans, they may spread spores throughout the home.
Discard all perishable food items (anything not kept in a water-tight container)
If wallboard or drywall is soaked or deformed, remove it and any soaked insulation to a foot above the water mark and carefully discard.
Drain walls by removing the baseboard and drilling holes near the floor.
Replace discarded material with water-resistant material.
Note: Only use central air conditioning after verifying the removal of any mold or mildew. Turning on the system can transport spores throughout your home.
Tip: Remove all wet, damp, or soaked insulation from water-damaged walls to prevent future, hidden mold growth.
Step 3 – Cleaning and Disinfecting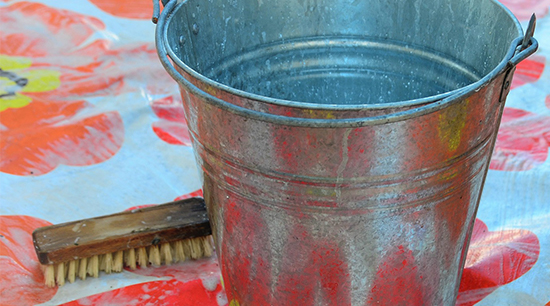 Before beginning the cleaning and disinfecting process, observe the following:
Ensure that your work area is well ventilated
Dawn your personal protective clothing and equipment
Clean first, then apply disinfectant
When mold is present, consider hiring a professional water damage and mold removal contractor to complete this job
Note: Disinfectants are formulated and intended for application to already cleaned surfaces.
Understanding the symptoms and health concerns about mold in your property will prompt you to prioritize this step.
Procedure for Hard Surfaces – Clean and disinfect hard surfaces like glass, metal, plastic, solid wood by:
Washing with an ammonia-free detergent and hot water
Use a stiff scrub brush on rough surfaces like concrete
Use your Wet-Dry vacuum to remove excess water and clean items like studs or any exposed wood framing
Disinfect cleaned surfaces with your 10% bleach solution. Allow a minimum of 10 minutes for the solution to stay on the surface before rinsing with clean water or allowing it to dry.
Procedure for Porous Material – Clean and disinfect items with porous surfaces like rugs, upholstered furniture, furniture crafted from pressed particle material, clothing, bedding, etc. by:
Washing with an ammonia-free detergent and hot water
Disinfect with a phenolic or pine-oil cleaner
Such items should then be thoroughly dried
Monitor the items for several days, watching for fungal growth.
If mold develops after this procedure, you can either repeat it or discard the item. If you are determined to keep the item, maintain it in a well-ventilated and well-lit area.
Mold Exposure Symptoms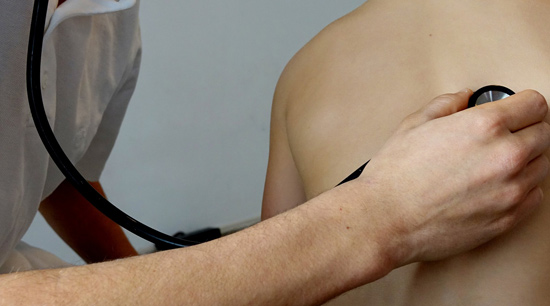 Your home may be harboring hidden mold growth, causing the development of any or a combination of the following symptoms:
Skin irritation
Shortness of Breath
Tightening of the Chest
Fever
Wheezing
Stuffy Nose
Runny Nose
Reddening of the eyes or skin
For those suffering from a chronic or debilitating respiratory condition, mold exposure can lead to severe breathing problems requiring medical attention.
COVID-19 and Mold Exposure
COVID-19 has heightened the necessity to avoid or mitigate mold exposure. Severe Acute Respiratory Syndrome is the illness/disease that commonly develops from COVID-19. This illness principally develops in the upper respiratory system, and mold exposure can trigger and/or exacerbate allergic reactions and asthma symptoms.
Mold Prevention
In this article, you discovered information, steps, and tips to help you prevent or remove mold after suffering water damage to your home.
After a flood resulting in water damage, taking prompt action will help you prevent mold and keep your loved ones out of harm's way.
Allowing moisture to persist after water damage occurs promotes mold growth and costly structural damages, often accompanied by the development of dangerous respiratory illnesses.
Sources:
epa.gov/mold/brief-guide-mold-moisture-and-your-home
cdc.gov/mold/control_mold.htm
fema.gov/pdf/rebuild/recover/fema_mold_brochure_english.pdf
Alpharetta Water Damage Restoration
2475 Northwinds Pkwy Ste 200a
Alpharetta
,
GA
30009
(678) 505-0266