Prevent mold or the embarrassment of a stained or water-damaged drywall. Knowing how to properly repair water-damaged drywall will help get your home back to normal.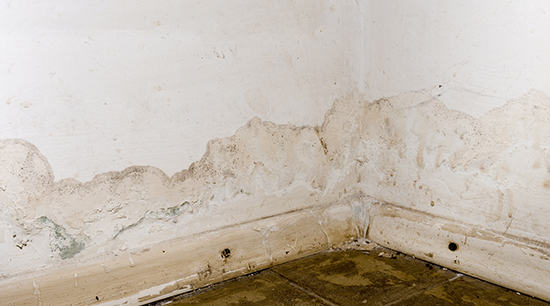 alpharettawaterdamageremoval.com gathered the following information on how drywall suffers water damage and how to repair it after your home experiences a flood.
Drywall Water Damage Causes
There are many potential causes of water damage to your drywall. Among these are:
Flooding
Hurricanes
Pipe Burst
Air Conditioning Condensation
Sink or Tub Overflow
Roof Leak
Note: Wet drywall will quickly lose its structural integrity, and if ignored long enough, mold spores may develop between the wall's insulation and the drywall. It's easy to ignore this and think it's not a problem because it is hidden, but it needs to be addressed to prevent mold-growth.
Drying Drywall
Before any repairs can begin, the water source that caused the damage must be halted and you must dry the water-damaged areas. Drywall acts like a giant sponge soaking up tons of water. Once the damage is done, here's what to do before starting the repair process:
Evaluate the Problem – Get a reading on how wet your drywall is by measuring it with a moisture meter. Readings above 1 percent (or out of the meter's green zone) indicate severe water-damaged drywall material.
Use Professional Equipment – You likely don't own the professional air-moving equipment necessary for this kind of job, but you can easily rent high-volume fans (air movers) and large dehumidifiers at your local home improvement centers.
Seal Up the Room – Make the room as airtight as possible by taping plastic over doorways and windows.
Note: This may sound counterintuitive, but it will help you remove the drywall's moisture.
Turn the Equipment On – Once the room is sealed, turn on the fan(s) and the dehumidifier. The dehumidifier will heat up the room while removing moisture from the air.
Note: This drying process will typically take about 3 days to leave your drywall completely dry.
Drywall Repair
Considering the levels of drywall damage your home may suffer, here are some ways to fix your drywall without calling in a professional water removal technician:
1. Superficial Damage (stained) – It is crucial to determine the extent of your drywall damage. You may be able to avoid significant expenses and lengthy repairs as long as the drywall is not structurally damaged. With proper cleaning, finishing, and light sanding, a fresh coat of paint can make your walls look new.
Note: With the wall opened, evaluate the state of its insulation and whether or not it should be treated or replaced.
2. Moderate Damage (small surface area) – If your drywall panels only show water stains and slight deformation, they can be repairable by:
Cutting out the damaged portion (cut the hole in a square or rectangular shape for easier replacement)
Make a patch with another section of drywall for the repair
Attach the "patch" to an existing stud for support (you should expose at least one stud when removing the damaged portion of drywall)
Use spackle or joint compound to fill in the gaps between the original drywall and the patch
Apply drywall tape to seal the patch in place and cover the tape with a thin coat of spackle or joint compound
Once dry, sand the area flat
Paint your newly repaired wall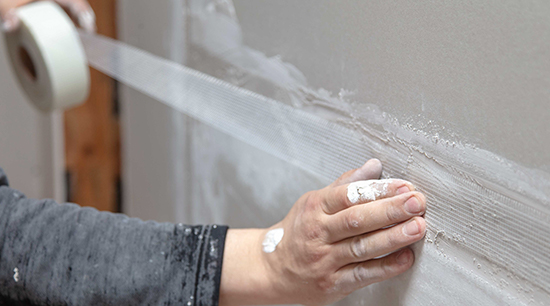 Tip: When water damages exceed a 3-foot by 3-foot area, it is strongly recommended to hire a professional water damage removal company to perform your repair work.
Professional Drywall Repair
If your home has suffered extensive drywall damage, don't hesitate to call in a professional water damage restoration company. Some projects are simply too large to handle by yourself. Consider this:
Before making any decisions or taking any actions, make sure you've discovered and halted the water damage's cause.
Drywall water damage can foster an environment for toxic black mold growth. If anyone in your home is immunocompromised or suffers from significant health issues, call in a certified specialist to handle the drying and repair process.
Drywall that's been soaked for days will lose its structural integrity, and this water-damaged drywall must be completely replaced. A professional water damage contractor can perform any necessary drying procedures, material removal, and complete repair/restoration.
Note: A professional water damage contractor can detect any severe structural damage that should also be addressed during such a repair.
Drywall Repair After Water Damage
In this article, you discovered how drywall can become water damaged, the dangers it may present, how to dry it out, and how to repair or replace any slightly damaged sections of drywall.
Acting swiftly to fix your water problem, dry out your home, and repair your drywall can save you significant money and protect the health of your loved ones.
Ignoring water-damaged drywall can lead to mold growth and potentially expensive structural damages.
Sources:
scholar.lib.vt.edu/VA-news/ROA-Times/issues/1996/rt9603/960317/03190002.htm
ehs.umich.edu/wp-content/uploads/2016/08/CLS-BEI-M-Walls-Community.pdf
Alpharetta Water Damage Restoration
2475 Northwinds Pkwy Ste 200a
Alpharetta
,
GA
30009
(678) 505-0266