Prevent your clogged kitchen sink from causing a costly flood in your kitchen. Knowing how to unclog your kitchen sink will save you time, money, and potential water damage.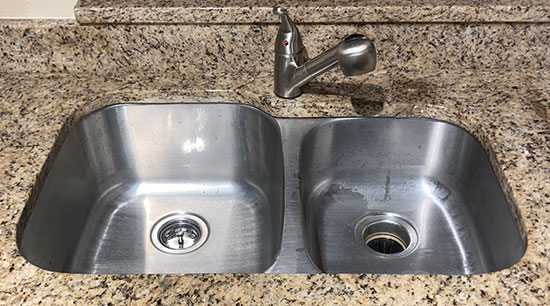 alpharettawaterdamageremoval.com assembled the following information on how to unclog a kitchen sink, what tools to use, and how to prevent future clogs.
How To Unclog a Kitchen Sink
The free-flowing draining of your kitchen sink is fundamental to preventing kitchen floods and maintaining a healthy kitchen. Without your sink, dirty dishes pile up and, vegetables go unwashed. So, here's how to unclog your single or double kitchen sink:
1. Remove the Clog by Hand
There are times a clog is right at the drain's top. In such cases, put on some rubber gloves, get your flashlight, and dig out the clog.
Run hot water down the drain for 30 seconds to 1 minute to verify the drain is clear.
Tip: If there is standing water in the sink, allow it to slowly drain out, scoop it out, or use a wet/dry vac to vacuum the water out.
2. Pour Boiling Water into the Clogged Drain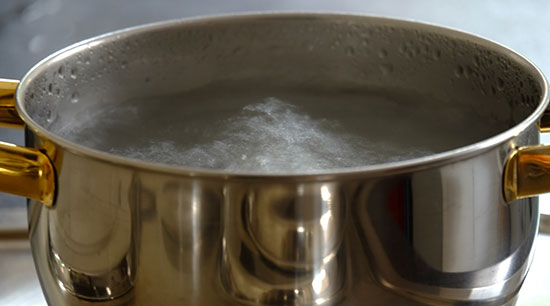 Many clogged drains can be cleared using boiling water. Here's how to do it:
Step 1 – Remove any standing water in the sink.
Step 2 – Bring two large pots of water to a rolling boil.
Step 3 – Carefully pour one pot of boiling water down the drain.
Step 4 – Test the drain by running hot water down the drain for 30 seconds to 1 minute.
Step 5 – (If cleared) Pour the second pot of boiling water down the drain.
If your attempt to clear the clog fails, repeat steps 1-4 as needed.
Tip: Add 1/2 cup of salt to the first pot of boiling water (let it dissolve). Salt is very useful in dissolving or dislodging drain clogs.
3. Use Vinegar and Baking Soda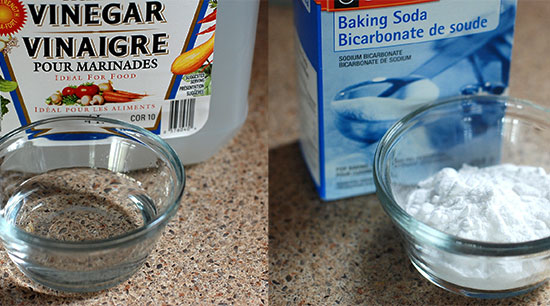 Vinegar and baking soda can be used in place of store-bought drain cleaners that use harmful chemicals. Depending on the type of clog, this natural mixture of vinegar and baking soda often out-performs brand-name cleaners. Here's what to do:
Step 1 – Pour 1 cup of baking soda down the drain.
Step 2 – Pour 1 cup of white distilled vinegar down the drain.
Step 3 – Let the baking soda and vinegar mixture rest for 1 hour.
Step 4 – Pour one pot of boiling water down the drain to rinse it out.
Note: If there's no change, the clog is likely further down the drainpipes and will require manual removal.
4. Plunge the Drain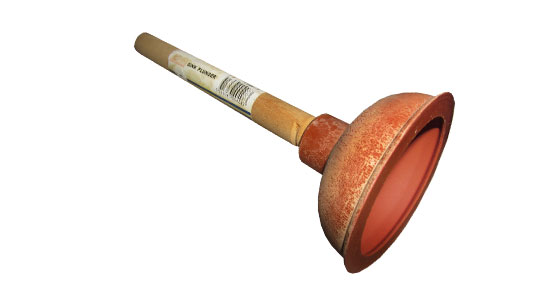 For this method, you will need enough water in the sink to cover the plunger cup. Here's what to do:
Step 1 – If you have a double kitchen sink, use a stopper or wet rag to firmly plug the free-flowing drain.
Step 2 – Put the plunger cup over the clogged drain, forming a firm seal. There should be enough water in the sink to cover the plunger cup.
Step 3 – Plunge the drain in an up and down motion 10 times.
Step 4 – If the water drains away when you remove the plunger, you've succeeded in unclogging the drain. If it does not, repeat this process as needed.
Tip: Before putting your plunger in your sink, sanitize it thoroughly with a spray cleaner containing bleach (unless it is brand new). After use in your sink, fully sanitize your sink to avoid transferring any waste or fecal matter to utensils or plate ware.
5. Disassemble the Drain Trap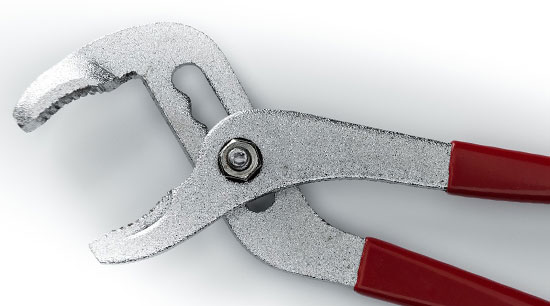 Often, the clog is located in the drain trap (also called P-trap S-trap or U-pipe) and must be manually removed. You'll need a plumber's wrench, bucket, and gloves. Here's what to do:
Step 1 – Position your bucket below the drain trap (center it to catch any escaping water).
Step 2 – Use your wrench to loosen the fasteners at either end of the trap.
Step 3 – Empty the trap into the bucket, inspecting it for clogs.
Step 4 – Once clogs are removed, replace the trap and test the drain.
Note: If there were no clogs in the trap, use method #6 before replacing it.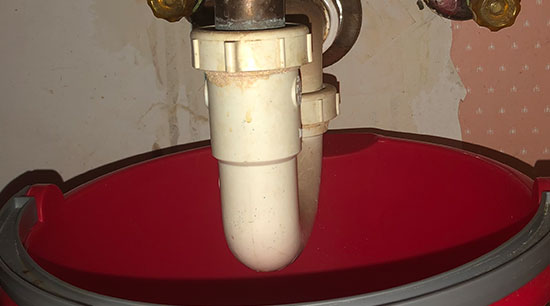 6. Snake the drain
When all other methods fail to unclog your sink, it's time to use a more aggressive strategy. Using a plumber's snake (auger), you can go deeper into your pipes to break up or remove the obstruction clogging your sink. Here's what to do:
Step 1 – Remove your drain trap (refer to steps 1 and 2 in method #5).
Step 2 – Introduce the snake's wire or grooved rod into the pipe leading to the wall.
Step 3 – Using the snake, slowly introduce more wire until reaching the obstruction.
Step 4 – Break-up, dislodge, or extract the object clogging your sink.
Step 5 – Carefully recoil the snake line (in a clockwise motion to keep the clog on the hook).
Step 6 – After removing the snake and the clog, reassemble the drain trap and run hot water down the drain for 30 seconds to 1 minute.
Tip: Use gloves, protective eyewear, and a mask to prevent any harmful material from splashing into your eyes, nose, or mouth. Wash up with an anti-bacterial soap after using a snake on your pipes.
Watch this video to see how a snake is used to clear a clog deep inside a kitchen sink drain pipe.
7. Hire a Plumber
When methods 1 through 6 fail to clear out a clogged sink, it's time to reach out to a professional plumber.
Dishwasher Use with a Clogged Sink
Your dishwasher's water supply and drain are likely connected to your sink assembly. Unless your dishwasher is fully independent of your sink, do not run it until your sink is unclogged. You could inadvertently trigger a flood.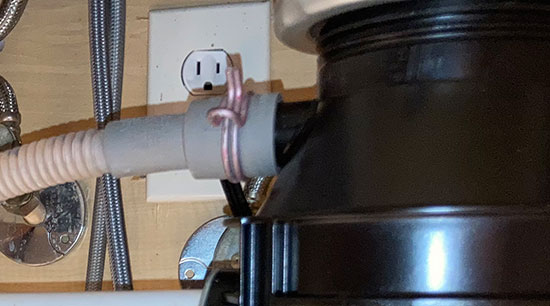 How To Prevent Your Sink from Clogging
The following tips will help you avoid having to deal with a clogged sink. Some of the following may require you to establish new ways of working and being around your sink:
No solids or food scraps in the sink (Have everyone dispose of what they did not consume in the trash or compost bin).
Your disposal unit should only be used for minor debris (it is not a trash compactor and will likely contribute to clogging and leaks when overused).
Dispose of coffee grounds in your trash or compost; running them through the garbage disposal contributes to build-up and clogging deep in your plumbing system.
Do not pour cooking oil, grease, or fat down your drains – ever. This build-up traps food, thickens, hardens, and can be complicated to dissolve or remove.
Use fine wire-mesh drain traps to prevent debris from falling into your drains.
Use baking soda and vinegar to routinely clean or deodorize your disposal unit and drains.
Once weekly, pour a pot of boiling water down the drain.
Tip: When sanitizing and deodorizing your sink, the juice of a squeezed lemon will leave a lasting fresh scent in your sink.
Clogged Kitchen Sink
In this article, you discovered multiple methods for unclogging your kitchen sink, what tools you may need, and what you can do to prevent it from clogging again.
Keeping your sink free of debris, food scraps, and other things like coffee grounds, seeds, pit, etc., will help you avoid the potential for inconvenient clogs.
Ignoring what's going down the drain and chewed up in your garbage disposal can lead to severe mechanical malfunctions, drain clogging, and flooding from your compromised plumbing.
Sources:
ufdcimages.uflib.ufl.edu/IR/00/00/13/19/00001/FY80700.pdf
blogs.baruch.cuny.edu/lifehackingtips/?cat=405055
asu.edu/ehs/documents/plumbing-decontamination-guide.pdf
Alpharetta Water Damage Restoration
2475 Northwinds Pkwy Ste 200a
Alpharetta
,
GA
30009
(678) 505-0266