Regardless of the source of the water (faulty pipes, appliance malfunction, or swelling ground water), water removal, cleanup, and repair must begin immediately after your house has undergone a flood. The longer the water sits, the more likely your house will suffer structural damage, and further restoration expenses.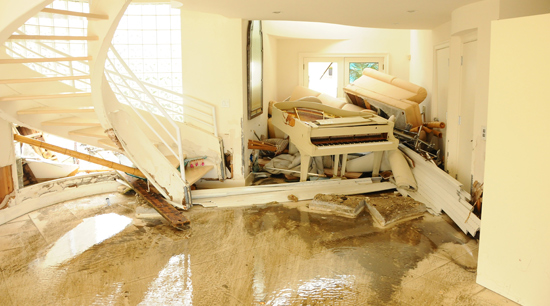 Some portions of the below information was taken from: alpharettawaterdamageremoval.com/my-house-flooded/. Learn from the technicians at Alpharetta Water Damage Restoration as they discuss the urgencies and precautions you must be aware of after your house has suffered water damage.
Locate and Shut Down the Water Source to Prevent Further Flooding
Once you identify the source of the water, take immediate steps to shut it down and correct the problem (if possible). Once you begin the water removal process, the last thing you need is for water to come rushing in again.
Patching the roof, cutting the water supply to the appliance, or repairing the pipe are common solutions that can usually be done fairly quickly.
There are however, situations where the source of water is hard to pinpoint, or is underground. The situations are more complex, but it must be properly addressed and resolved before moving forward.
Safety First in a Flooded Home
Avoid the mistake of assuming that entering a water damaged structure is safe. It is in fact very dangerous and may pose the threat of illnesses, injuries, or even death. Here are some tips, suggestions, and hazards to be aware of after a property has experienced water damages: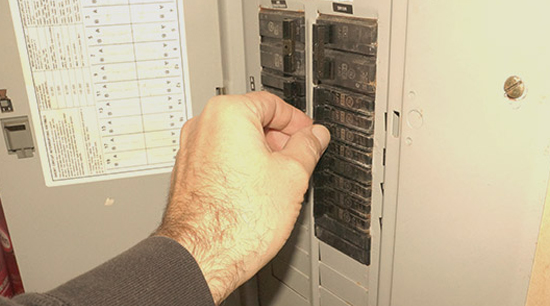 Electricity – When a house has flooded or is still wet from a flood, turn off the power at the main breaker; leave it off until the appliances and electrical wiring has been inspected and/or repaired by a licensed electrician.
NOTE: Even if there is a power outage due to a storm, you will still need to turn off the power at the main breaker to avoid the possibility of electrocution.
Sewage and Debris – Flood waters can carry a number of things with it as it infiltrates your house. Namely, sewage, chemicals, and infectious diseases that can cause severe illness.
When entering a house that has been flooded (not recommended), wear protective clothing, rubber boots, protective eyewear, and gloves. Avoid skin contact with the flood water and watch for debris which may have entered with the water.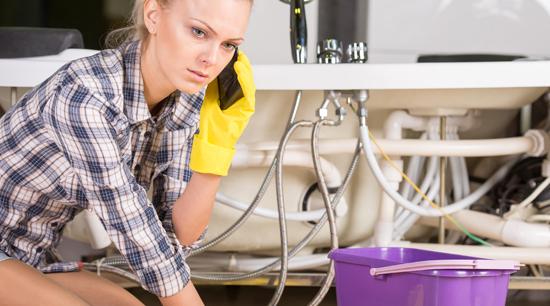 Contaminated Food and Kitchen Supplies – If the flood waters rose enough to infiltrate your pantry, cabinets, refrigerator, or other food storage locations, consider that food to be contaminated. It is highly recommended to dispose of all contaminated items.
It is also recommended that dishes, glasses, cookware, and silverware be thoroughly washed before using them again.
Children – As children typically want to touch and taste nearly everything, they are perhaps the most at risk in a flooded home. It is advisable to keep children away until the property has been dried, sanitized, fully restored, and tested.
For further safety tips and recommendations, see the Federal Emergency Management Agency's (FEMA) "Protecting Your Home And Property From Flood Damage"
Call Your Insurance Company
Coverage and repair values differ depending on the policy you have. However, the sooner you make the call, the sooner an adjuster can come out, so the insurance company can determine and pay for damages.
Your insurance company may not be able to send out an adjuster right away. In this case do not delay, or let that stop you from beginning the water removal process. Time is a critical asset you cannot afford to lose.
Documentation is everything in these situations. Taking photos or videos of the house and damages before, during, and after the cleanup will assist the adjuster in assessing accurate values for your losses.
Professional Water Removal
While you may want to go solo with the cleanup, it is important to understand the severe risk you will be taking. When large amounts of water infiltrate a home, much of the resulting damage is not visible.
Water will seep into foundation cracks, soak drywall and insulation, remain in carpet padding, and in each case, will propagate the growth of harmful mold and mildew.
Calling in emergency flood and water cleanup professionals provides expertise and the use of state of the art instrumentation. These tests, tools, and drying equipment ensure your property is restored to its original state – free from the hidden bacteria that can flare up later.
Do yourself a favor and follow these tips after a flood to enable your safe and speedy return.
Alpharetta Water Damage Restoration
2475 Northwinds Pkwy Ste 200a
Alpharetta
,
GA
30009
(678) 505-0266