Avoid catastrophic damages and significant financial loss from home flooding. By knowing how to protect your home, you can prevent floodwater from disrupting your life.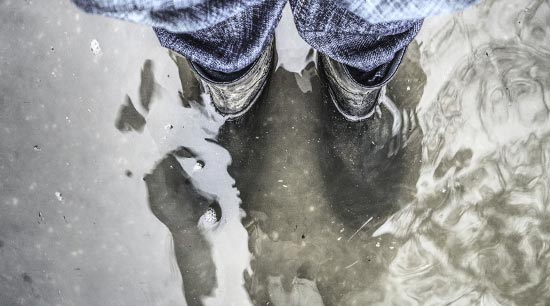 alpharettawaterdamageremoval.com gathered information about how to assess flood risk, how you can renovate your home to protect your property when rising floodwaters threaten it, and how to purchase flood insurance.
Know Your Flood Risk
Your first step in protecting your property from flooding is to know your community's flood risk. Communities across the United States frequently update their flood risk maps and exchange this information with the Federal Emergency Management Agency (FEMA).
To find the most current information about your property's flood risk, visit msc.fema.gov/portal/home, and enter your address to access an interactive map of your community and pertinent announcements from FEMA.
Prevent Future Flooding Problems
The following are easy steps you can take to help your property resist the threat of rising floodwater:
Fix Foundation Cracks – Seal foundation cracks using:
• Mortar
• Masonry Caulk
• Hydraulic Cement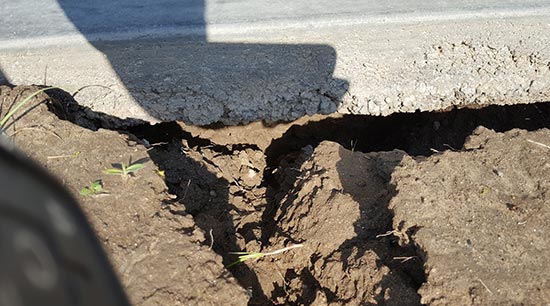 If your property has a basement, avoid seepage by sealing the walls with a waterproofing compound. Also, make sure floor drains are free from obstructions.
Have a Sump Pump Installed – Sump pumps detect and expel rising groundwater away from your home. Sump pumps are a great line of defense against flooding in basements and rooms below ground level.
Tip: Install sump pumps that work on electricity and batteries for continuous protection in the event of power outages.
Electrical Modifications – Hire an electrician to perform the following:
• Raise your internal and external electrical outlets
• Make sure your home is properly grounded
• Verify that your breakers are functioning properly
• If you don't have one, install a master kill switch to shut off all the power at once
• Insulate or protect internet access or cable wiring
Tip: Instead of running electrical wiring to yard and garden lighting, use solar-powered fixtures.
Plumbing Modifications – Hire a plumber to perform the following:
• Install sewer backflow valves to prevent wastewater and floodwater from entering your home through sinks, toilets, and drains.
• Install drain plugs for basement drains to prevent sewage backups.
Tip: Have your drain pipes inspected annually to detect and fix invasive roots and blockages.
Landscape Modifications – Hire a landscaper to do the following:
• Have your yard or lot graded to drain water away from your home
• Fill or raise any low areas that may pool water
• Plant and maintain grass and shrubbery to protect from erosion
Tip: If you have trees on your property, hire an arborist to perform a tree risk assessment, and remove any tree that poses a threat to your home and property.
Home Drainage Maintenance – Your rain gutters and downspouts should be routinely cleaned and cleared of any debris or blockages.
Tip: During a rainstorm, evaluate water draining from your roof and how your downspouts drive water away from your home. If water pools near or against your home, have this corrected immediately.
Flood Protection Barriers – Maintain a supply of sandbags or flood barriers. When extreme weather approaches or you see water rising toward your property, deploy your sandbags and/or barriers to the most vulnerable areas of your property.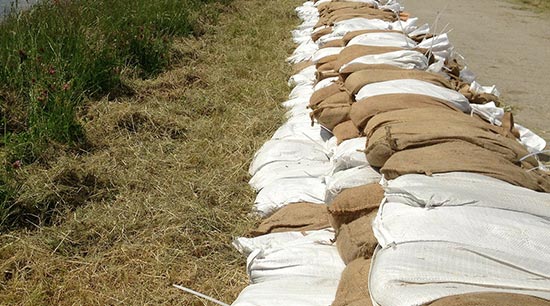 Raise Electrical Appliances and Equipment – Use pedestals or platforms to raise electrical appliances and equipment at least one foot above potential flood levels. If you can, move this equipment to an upstairs location.
Tip: For external equipment like a generator or HVAC unit, raise them on a platform and secure them to avoid being washed or blown away during extreme weather events.
For more information about protecting internal and external service equipment, read fema.gov
Raise Your Home – You can raise your home above flood levels by raising it on stilts or piers. While this measure is expensive to conduct properly, it may be dwarfed in comparison to the cost of repairing your home after flooding.
Do I Need Flood Insurance?
If your property lies within a moderate to high-risk or higher-risk area, you should strongly consider purchasing a flood insurance policy.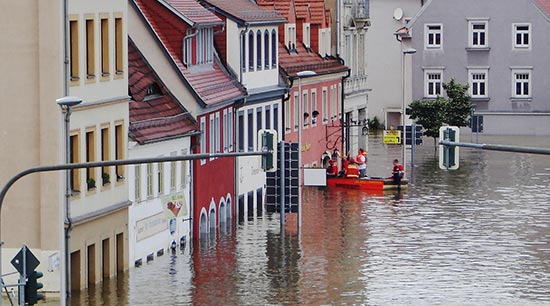 There are two types of flood insurance; One is for the structure, and the other is for the contents within the building. Each has its deductible and are purchased independently of one another. Preferred risk policies typically contain an option to combine the two, but deductibles are always independent of one another.
National Flood Insurance Program (NFIP) policies can be purchased through insurance agents nationwide. Find a list of participating Write Your Own (WYO) companies here https://www.fema.gov/wyo_company or for agent referrals, you can call the NFIP Referral Call Center at 888-379-9531.
Read more about flood insurance and how to purchase it at alpharettawaterdamageremoval.com/what-is-flood-insurance-how-do-i-buy-it/
Note: Homeowners insurance policies typically do not cover flood damage from rising stormwater.
How To Prevent Flooding
In this article, you discovered how to assess your flood risk, how to renovate and protect your home, and how to acquire flood insurance.
By taking action to renovate, prepare, and protect your home from floodwater, you gain peace of mind and avoid the catastrophic damages of a flooded home.
If you neglect your flood risk, you create the possibility of floodwater destroying your possessions and causing irreversible structural damages to your home.
Sources:
fema.gov/news-release/2018/06/25/4363/protect-your-home-future-flooding
valuepenguin.com/homeowners-insurance/how-to-prevent-home-flooding
floodsmart.gov/flood-map-zone/find-yours
nrdc.org/stories/7-ways-flood-proof-your-house
Alpharetta Water Damage Restoration
2475 Northwinds Pkwy Ste 200a
Alpharetta
,
GA
30009
(678) 505-0266