The storm of the century clashes into your town and causes millions in flood damages. Both your home and business suffer thousands in losses, and that's when you discover that your homeowner's and renter's insurance do not cover floods.
Regular insurance policies are different from flood insurance policies. With our weather patterns changing, flood insurance is becoming more of a necessity than an option.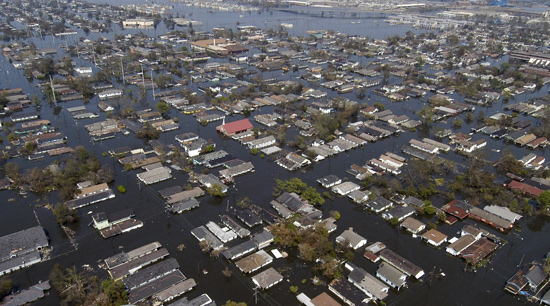 In this article, the team at Alpharetta Water Damage Restoration explains what flood insurance is, what it covers, what affects the price, and how to buy it for your home or business.
What Is Flood Insurance?
Flood insurance is the only type of coverage that reimburses you for flooding caused by weather or external forces. Homeowner's insurance does not cover floods by this definition.
There are two principal types of flood insurance. One is for the building or structure, and the other is for the contents (your belongings) within the building. Each has its deductible and are purchased independently of one another (preferred risk policies typically contain an option to combine the two, but deductibles are always separate).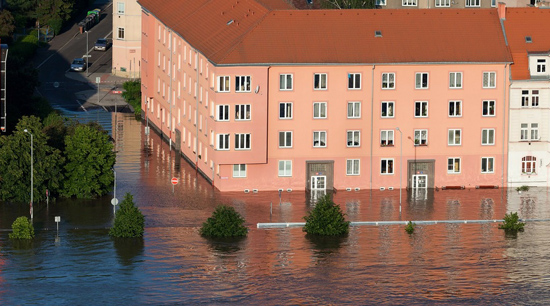 For flood insurance claims, the cause of the flood must be a direct result of flooding. Flood insurance policies do not cover floods from broken pipes or malfunctioning appliances, in these cases, a homeowner's or renter's policy provides coverage.
What Is Covered by Flood Insurance?
Building coverage will only cover the structure, while coverage for contents only includes the contents within the structure (excluding basements in most policies). Currently, federal flood insurance coverage is capped at $250,000 per building and $100,000 for contents, policies with lower limits are available.
The following are examples of covered items under each policy:
Building Coverage
Electrical System
Plumbing System
*Staircases, Foundation Walls, and Anchorage Systems
Built-in Appliances and refrigerators
Water Heaters, Furnaces, HVAC, and Sump Pumps
Permanently Installed Carpeting (on an unfinished floor)
Permanently Installed Bookcases and Cabinets
Cisterns (and the water in them)
Fuel Tanks (and the fuel in them)
Wallboard, Paneling, and Window Blinds
Solar Energy Equipment
If your property has a detached garage for parking a vehicle or some storage, 10% of the policy limit may be applied, and subsequently reduces available building coverage.
*Losses caused by earth movement (even when initiated by flooding) are excluded from flood insurance policies.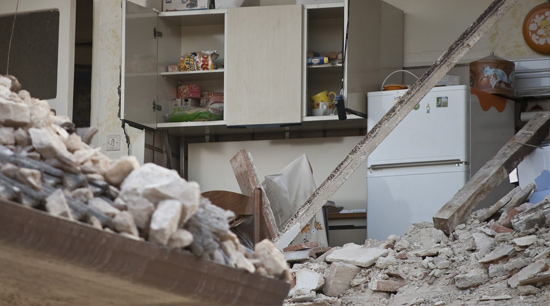 Content Coverage
Washers and Dryers
Food Freezers and Food Inside (not refrigerators)
Portable Appliances (air conditioner, microwave, etc.)
Curtains
Clothing and Furniture
Electronic Equipment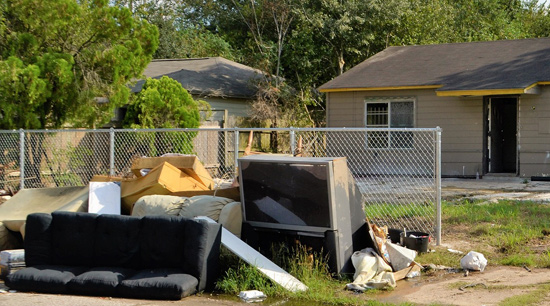 Some more valuable items like original art can be included in content policies but will have limits. Additional specialized insurance policies may be required to cover the full value of such items.
Not Covered in Flood Insurance Policies
Living expenses while repairs are being made to the building.
Most motorized (self-propelled) vehicles and their parts.
Damages from mold, mildew, or moisture not attributed to the flood or which could have been avoided.
Damages resulting from earth movement, even when caused by the flood.
Financial loss due to the interruption of business activities.
Property outside the insured building such as patios, trees, swimming pools, decks, seawalls, etc.
Currency, stock certificates, and precious metals or jewelry.
How Much Does Flood Insurance Cost?
Through the National Flood Insurance Program, policy premiums average about $700.00 annually. This amount varies depending on several factors considered when determining the premium. Some of these factors are:
The amount and type of coverage being purchased.
Location of the structure and the flood zone in which it is located.
The design and age of the structure.
An Elevation Certificate (EC) is required for structures in high-risk areas (A and V zones).
An Elevation Certificate (EC) verifies your building's elevation as compared to estimated floodwater height during a major flood in high-risk flood areas. This document is used in the determining of policy premiums.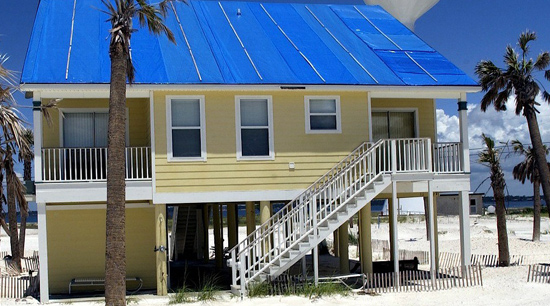 Policy discounts are sometimes available for eligible policyholders with property in communities that participate in the Community Rating System (CRS). In such communities, local government will already have an EC on file for the property.
Property owners in high-risk flood areas have the right to independently acquire an EC by contracting a state-licensed surveyor, architect or engineer. The cost of an Elevation Certificate may vary significantly depending on the location of the structure and complexity of the job, ranging from $500 to more than $2,000.
Flood Insurance Map – What Are Flood Zones?
Another factor which influences flood insurance policy premiums is the property's location on FEMA's Flood Map. This interactive map assigns flood risk to surveyed land and divides it into zones.
A and V zones are high-risk flood zones. The letters are usually accompanied by an "E" which means elevation; this specific identifier is significant when determining policy rates. If a structure is in zone AE-4, it is in a flood zone (A) with an elevation (E) of 4 feet above sea level.
Other zones include "D" which signifies that there's a risk due to levees or there is an undetermined hazard and "X" which means there is minimal chance or reduced risk for flooding.
The map pictured below was generated using the address for Alpharetta Water Damage Restoration (2475 Northwinds Pkwy Ste 200a Alpharetta, GA 30009).
Note the green lettering on the map which indicates the map grid number 13121C0066F effective on 09/18/2013 and is in an "Area of Minimal Flood Hazard" or zone X.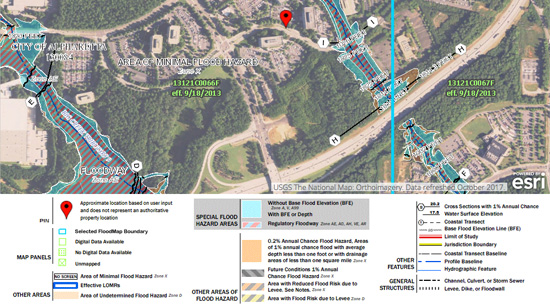 How Do I Buy Flood Insurance?
National Flood Insurance Program (NFIP) policies can be purchased with the help of insurance agents nationwide. Find a list of participating Write Your Own (WYO) companies here https://www.fema.gov/wyo_company or for an agent referral, call the NFIP Referral Call Center at 888-379-9531.
NFIP flood insurance policies are only for properties within NFIP participating communities. To discover if your community participates, look it up in The National Flood Insurance Program Community Status Book.
Those in low and moderate-risk areas that buy federal flood insurance will pay standard premiums set by FEMA. Those rates remain the same independent of where the policy is purchased.
For any further questions regarding the National Flood Insurance Program, contact their help center at 800-427-4661.
Private Insurance – Some insurance carriers now offer flood insurance as a rider policy on homeowner's or renter's coverage.
In some instances, private flood insurance premiums may be lower than those of the federal premiums and offer better coverage in the event you need to relocate during repairs.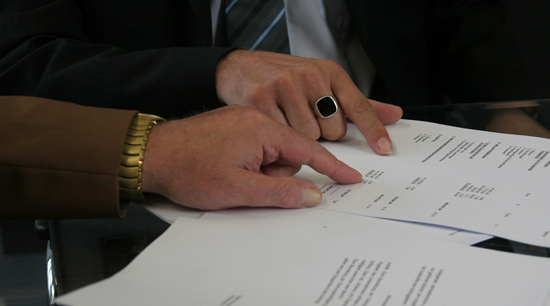 As with any other purchase, explore the options that are available, educate yourself and make informed decisions when the time is right.
Protecting Your Assets and Loved Ones
Insurance for your home or business against flooding protects your investment, property, and loved ones. Knowing what it covers, how its price is calculated, and how to buy it will help you get the best coverage and premium.
Whether purchasing flood insurance privately or through a government entity, you now possess the knowledge and tools to find the flood zone your property is in and its risk factor, understand how premiums are calculated, and what exactly is covered and excluded from flood insurance policies.
Over the past two decades, our nation has witnessed flooding in places that were once believed to be safe. If you currently do not have flood insurance, beware. As with any other insurance policy, its real value only becomes apparent when we need to use it.
Sources:
http://flash.org/peril_inside.php?id=58
https://www.naic.org/cipr_topics/topic_nfip.htm
https://www.floodsmart.gov/how/how-do-i-buy-flood-insurance
https://www.floodsmart.gov/how/what-is-covered
Alpharetta Water Damage Restoration
2475 Northwinds Pkwy Ste 200a
Alpharetta
,
GA
30009
(678) 505-0266